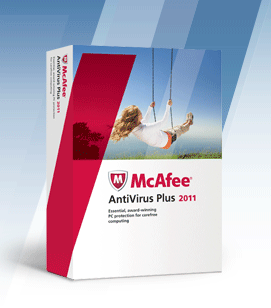 AntiVirus Plus 2011
Featuring
Anti-virus
Anti-spyware
Anti-phishing
Two-way Firewall
Website Safety Ratings

Fast:

Quicker scan times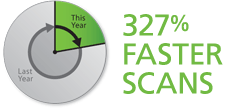 McAfee knows the value of your time. By utilizing real-time scans, McAfee provides up to date protection that won't slow you down. By using a smaller portion of your computer's memory, McAfee delivers fast, complete protection for all your daily computing tasks.
Results independently tested by Network Testing Labs, December 2009. Subsequent scan time compared to previous version using Intel Dual Core, 2 GB RAM, 320 GB hard drive, Vista SP1 PC.
Simple:

Streamlined user home screen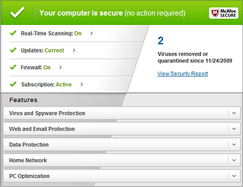 Keeping your computer maintenance straightforward and effortless, McAfee provides you with an easy to use home screen. From checking the status of your protection to monitoring blocked threats and controlling your security, all your vital tasks can be managed in one place.
Effective:

McAfee is #1 in malware detection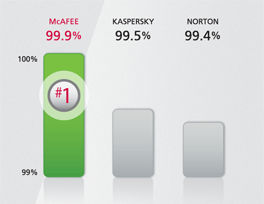 McAfee is a name you can trust, constantly identifying, blocking and eliminating threats to your computer with its award-winning protection. Active Protection technology instantly analyzes and blocks new and emerging risks in milliseconds so there is no gap in your protection. Always working, even when you aren't, McAfee protects you against viruses by detecting and removing spyware, adware, root kits and insidious programs designed to tamper with your computer.
AV-Test.org malware detection results published in ComputerBild magazine (Issue 26, December 5th, 2009). McAfee Active Protection technology is included in this McAfee security product.