Content

VirusScan Plus
Essential, Easy-to-Use PC Protection with Powerful Web Site Safety Advisor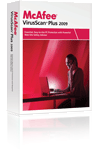 Anti-virus
Anti-spyware
Firewall
Web Site Safety Ratings


Tab Navigation
McAfee® VirusScan® Plus, now available with revolutionary Active Protection technology, offers essential PC security with accelerated performance and enables the fastest updates and highest levels of detection against malicious threats.
| | |
| --- | --- |
| What you want to do: | How McAfee makes this possible: |
| Email, chat and go online without worry | Anti-virus, anti-spyware, and SiteAdvisor protect you from malicious software |
| Enjoy the Internet 24x7 knowing bad guys can't get access your PCs | Firewall blocks outsiders from hacking into your PC |
| Freely surf, search and browse the web | SiteAdvisor UNIQUE! rates web site safety before you click with red, yellow or green colors |
| Protect all of the PCs in your home | Online account management lets you easily add other PCs to your subscription |
| Get the maximum performance from your PC | QuickClean safely removes junk files that slow your PC and take up space on your hard drive |
McAfee® VirusScan® Plus takes the worry and hassle out of essential PC protection for everyone — experts to novices, shielding PCs from viruses, spyware, and includes a firewall to protect you against hacker attacks. It also features award-winning, easy-to-use McAfee SiteAdvisor® - an online safety guide that warns you about risky web sites before you visit.

McAfee® VirusScan® Plus is now available with revolutionary Active Protection technology, providing immediate protection against malicious threats to your PC. A new threat can be analyzed and blocked in milliseconds, rather than waiting hours for traditional techniques. Active Protection is the best technology to keep you safe from emerging online threats.

With unmatched performance, McAfee® VirusScan® Plus runs silently in the background without slowing down your PC, boasting faster start-up, shut-down and scan times.

McAfee's security products use award-winning technology, are easy to install, and come with unlimited email and chat assistance. With continuous and automatic updates, McAfee ensures that you're running the most current security to combat the ever-evolving threats on the Internet for the duration of your subscription.

An Internet connection is required to install this software and to receive automatic updates and upgrades to keep your security up to date. You may install this product on up to 3 computers in your home.
Microsoft® Windows 2000 (32-bit) with Service Pack 4 (SP4) or higher,
Windows XP (32-bit) with Service Pack 1 (SP1) or higher,
Windows Vista (32- or 64-bit) and Windows Vista Service Pack 1 (SP1) or higher
800 X 600 or higher resolution
256 MB RAM
75 MB of available free drive space
Internet connection
Microsoft® Internet Explorer 6.0 or later
Optional: Mozilla Firefox 1.5 or later
Supported Email Programs
POP3 – Outlook Express, Outlook, Eudora, Netscape, IncrediMail and Thunderbird; Japanese only: Shuriken, Becky and PostPet
MAPI – Outlook
Web – MSN/Hotmail, or email account with POP3 access